Santa Clarita, GA (June 13, 2022) – Emergency crews actively responded to the scene of an injury crash in Santa Clarita on the early morning of June 13. At around 12:40 a.m., responders were dispatched to the area to assist the injured parties. 
According to reports, the wreck happened in the 26000 block of Rainbow Glen Drive when a Dodge Charger collided with a Dental Center. Witnesses assisted in the removal of the victims from the mangled vehicles at the scene. 
The incident triggered a fire that quickly spread to the building, causing significant damage. Multiple occupants of the vehicle were transported to a local hospital to be treated for injuries. 
Firefighters were at the scene for over an hour while they worked to put out the blaze and inspect the building's foundation. Reports from witnesses show that the Dodge Charger may have been involved in a street race at the time of the collision. 
No further details have been reported at this time. We hope for the full recovery of the injured victims. 
Authorities continue to investigate. 
California Car Wrecks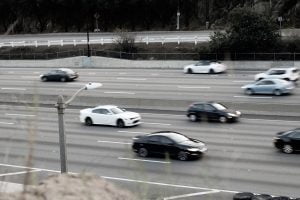 There are hundreds of thousands of car accidents in California every year, and the number keeps rising. The Golden State is home to three of the 10 most deadly freeways in the United States. In 2020, the state saw a sharp uptick in traffic fatalities. There are more fatal car wrecks in California than in any other state in the nation. On average, the state sees more than 3,200 deaths per year related to traffic accidents. 
According to information provided by the National Safety Council, your chance of dying in a motor vehicle accident is approximately 1 in 101. A report completed in 2021 found that 77% of drivers have been involved in at least one collision. If you or someone you love has recently been hurt in a car wreck, you may be going through a stressful time. 
Depending on the severity of your injuries, you may be stuck in the hospital for weeks or even months. You are probably in a lot of pain and possibly dealing with invasive medical procedures. Maybe you even need surgery in order to fully recover from your injuries. While all of this is probably very unpleasant, it is also very expensive. The average cost of recovering from a severe car accident is over $50,000. 
You may be asking yourself how you're going to pay for all of the costs associated with your crash. Your medical bills, vehicle repairs, and lost wages do not mix well. It can feel like you have nowhere to turn, but depending on the circumstances of your accident, you may be eligible to collect financial compensation for your injuries. 
If you believe that someone else was at fault for your injury accident, you should file a personal injury claim for compensation. You can do that by contacting a personal injury lawyer in Santa Clarita who will help you file the claim successfully. The process of filing a personal injury claim is complex and requires a number of resources. These resources are all readily accessible to a skilled and knowledgeable personal injury lawyer. 
Even if you believe you were partially at fault for the crash, you may still be able to collect compensation. For example, if the court finds that you were 30% responsible for the accident, you will receive 70% of the compensation available for your injuries and losses. The amount of compensation you receive depends partially on the nature and severity of your injuries and how they were obtained. 
If you have been injured in a car accident, contact our Los Angeles County personal injury law firm at 1-888-700-0093 to speak with a personal injury attorney. 
Note: We use outside sources when creating these accident news posts. These sources include but are not limited to local and state police reports, local news reports, social media outlets, and eyewitness accounts about serious accidents that take place in and around Los Angeles County. We have not independently verified all of the facts surrounding this specific accident. If you locate any information that is incorrect, please contact The Mines Law Firm immediately so that we can correct the post right away. The post will be removed on request.
Disclaimer: None of the information provided in this post is intended to be legal advice or medical advice. If you are involved in an accident, seek medical assistance as soon as possible. This news post is not a solicitation for business. The picture in this post is not from this accident scene.