Santa Clarita, CA (July 8, 2022) – Multiple people were injured in a car crash in Santa Clarita on Wednesday, July 6. Police responded to the scene to help involved parties and evaluate the situation. 
Initial reports reveal that the accident happened on Sand Canyon Road near Little Tujunga Canyon Road, north of the eastbound Santa Clarita Truck Trail. The wreck happened just after 11:00 p.m.
A vehicle reportedly drove off of the road and down an embankment about 200 feet. Emergency responders had to free the driver and passenger from their vehicle. One person suffered serious injuries and may require an amputation to make a full recovery. 
One of the victims required a lifeflight to a local hospital due to the severity of their injuries. At this time, those involved have not been identified to the public. 
Police in Santa Clarita continue to investigate the details of the accident. 
Our thoughts are with everyone involved. We hope for their full recovery. 
California Car Wrecks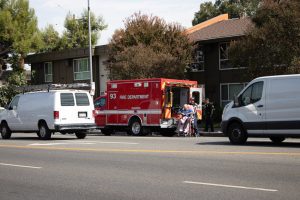 Thousands of individuals are killed every year in car accidents. The United States sees more than 38,000 fatalities every single year caused by traffic wrecks. These collisions are usually caused by driver error/negligence. Careless driving has become a dangerous problem in California and throughout the United States. Over 13,000 people lose their lives each year due to reckless drivers, while 31% of all auto collisions happen due to reckless driving. 
Even if you adhere to every single traffic law, you could still become injured because of the actions of a negligent, reckless, or distracted driver. You deserve to be compensated for your injuries if you have been wrongfully hurt by the actions of another person. A large number of difficult consequences can result from a traffic collision, and you should not have to face them all alone.  A California personal injury lawyer may be able to help you recover from the fallout of your crash by helping you collect full and fair financial compensation. 
You may be struggling financially after suffering serious injuries in a collision, however, depending on the circumstances of your wreck, you have legal options available to help you recover. A car crash lawyer in Santa Clarita can help you learn more about your qualification for financial compensation. If a negligent driver caused your accident, you could be compensated for lost wages, vehicle repairs, and more.
Victims may be emotionally and financially weakened after a crash, leaving them vulnerable to insurance companies who may try and take advantage of them. Sadly, insurance companies will attempt to get injured crash victims to settle for less than they deserve in terms of financial compensation. They do this to close their cases out as cheaply and quickly as possible.
This is why it is vital to have a trusted and skilled lawyer in your corner. An attorney can negotiate a fair settlement from the insurance company for you so you can fully recover.
Contact a Santa Clarita car accident lawyer if you have recently sustained injuries due to the negligent actions of another person. An attorney can inform you how filing a personal injury claim can help you during this difficult time. You deserve the maximum amount of financial compensation available to you during this trying and problematic time in your life.
Allow a car accident lawyer to fight for your legal right toward financial compensation. At the Mines Law Firm, we will negotiate a full and fair settlement from the insurance companies for you. You should be able to focus on your physical and emotional recovery without having to worry about how you will financially recover. 
The personal injury attorneys at the Mines Law Firm will work around the clock to help lift the financial burden you're facing due to your accident. Our attorneys have years of experience in successfully negotiating with insurance companies and getting our clients the compensation and justice they deserve. 
At the Mines Law Firm, we have been helping families to recover for many years.  An attorney from our law firm can help you financially recover so you can focus on your emotional and physical well-being. 
Contact the Mines Law Firm at  1-888-700-0093 any time, 24 hours a day, 7 days a week to discuss legal options available for you. 
Note: We use outside sources when creating these accident news posts. These sources include but are not limited to local and state police reports, local news reports, social media outlets, and eyewitness accounts about serious accidents that take place in and around Los Angeles County. We have not independently verified all of the facts surrounding this specific accident. If you locate any information that is incorrect, please contact The Mines Law Firm immediately so that we can correct the post right away. The post will be removed on request.
Disclaimer: None of the information provided in this post is intended to be legal advice or medical advice. If you are involved in an accident, seek medical assistance as soon as possible. This news post is not a solicitation for business. The picture in this post is not from this accident scene.