Los Angeles, CA (June 4, 2022) – Police in Los Angeles identified a pedestrian who lost their life in a crash on the Hollywood Freeway on Tuesday, May 31. At approximately 10:30 p.m., the crash happened on the northbound 170 Freeway at Victory Boulevard. 
Carlos Gonzalez, 36, lost his life at the scene of the accident.
Police confirmed that the driver who struck the pedestrian was a city employee, identified as Joseph Avalos, a reserve officer with the Los Angeles Police Department. 
Police in Los Angeles continue to investigate the details of the incident. 
We would like to offer our sincere condolences to the family of Carlos Gonzalez.
California Pedestrian Accidents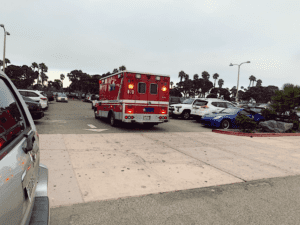 Close to 500 people are killed in pedestrian crashes in California per year. California pedestrian accidents took 463 lives in 2020. Across the United States, each year, approximately 6,700 people lose their lives in deadly pedestrian crashes. Alarmingly, most of the pedestrian-involved collisions that happen in California and throughout the United States are caused by driver negligence. 
All drivers have a shared responsibility to keep themselves and everyone they encounter on the road as safe as possible at all times. They do this by remaining alert, aware, and keeping their eyes on the road. Unfortunately, many people choose to act negligently while behind the wheel. For example, approximately 43% of Americans have admitted to driving drunk, according to a recent survey concerning intoxicated driving in the United States. Information provided by the National Highway Traffic Safety Administration reveals that every day, around 32 people lose their lives in drunk driving accidents.  
A pedestrian who is struck by a drunk driver has the legal right to sue the driver and get financial compensation for any/all damages and losses stemming from the wreck. At the Mines Law Firm, our Los Angeles pedestrian crash lawyers in Los Angeles are here to help those who have been victimized by reckless, careless, and negligent drivers. We work to help our wrongfully injured clients recover financial compensation for their suffering. The majority of severely injured pedestrians are often stuck in the hospital for weeks or months after their accidents. They endure pain and suffering while they are forced to undergo invasive and extensive medical procedures in order to fully recover. Sadly, some injured victims never make a complete recovery and must deal with a disability for the rest of their life.
Our attorneys at the Mines Law Firm are passionate about helping those who have been wrongfully injured recover. Negligent drivers need to be held responsible for the damage they cause. Oftentimes, negligent drivers get steep fines and even jail time. In cases of gross negligence, a negligent driver may be required to pay the victim punitive damages. These are out of pocket fees paid to the injured victim as a punishment for extreme negligence. When you or someone you love has been hurt in a pedestrian accident that was caused by the negligence of another person, an attorney can help you get the financial compensation you need to make a full recovery.
If you lost a family member due to driver negligence, you need to contact a wrongful death lawyer in Los Angeles as soon as you can. You can get help paying for the costs associated with your loved one's accident. When you lose someone you love due to a reckless, careless, or negligent driver, our law firm knows the pain you're feeling. We just want to help you financially recover so you can focus on your family. You have many legal options that can help you recover financial compensation for the damages you may have sustained. 
Contact the Mines Law Firm at  1-888-700-0093 any time, 24-hours a day, 7 days a week to discuss legal options available for you. 
Note: We use outside sources when creating these accident news posts. These sources include but are not limited to local and state police reports, local news reports, social media outlets, and eyewitness accounts about serious accidents that take place in and around Los Angeles County. We have not independently verified all of the facts surrounding this specific accident. If you locate any information that is incorrect, please contact The Mines Law Firm immediately so that we can correct the post right away. The post will be removed on request.
Disclaimer: None of the information provided in this post is intended to be legal advice or medical advice. If you are involved in an accident, seek medical assistance as soon as possible. This news post is not a solicitation for business. The picture in this post is not from this accident scene.