Lancaster, CA (June 30, 2022) – The Los Angeles County Fire Department and the Los Angeles County Sheriff's deputies both responded to a traffic accident in the area of Avenue K-8 and Division Street in Lancaster at about 4:30 p.m. on Monday, June 27th. 
Upon their arrival, deputies learned that a motorcyclist had collided with a white vehicle. 
The biker was found lying unconscious in the roadway. Paramedics from Stations 135 and 129 along with firefighters attempted to administer CPR. Their efforts were unsuccessful and the man died at the scene.
Unconfirmed eyewitness reports state that the vehicle pulled out into the path of the motorcyclist. The coroner removed the body of the deceased from the scene at about 8:10 p.m. 
The victim's family could be seen standing on the roadside, visibly upset.  
No additional details are available at this time.
We would like to offer our deepest condolences to the family of the deceased victim at this time.
Liability and Damages for Failure to Yield Accidents in California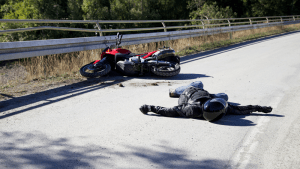 All drivers have a duty to comply with traffic lights and signs and follow state driving laws. This includes being familiar with and obeying laws pertaining to rights of way. Most drivers who fail to do so are distracted, intoxicated, driving offensively, or speeding. Their careless actions change intersections into driving dangers where devastating accidents take place. 
A driver is considered negligent when they fail to yield to a vehicle that has the right of way. 
Negligence is a legal premise that has to be proven before a person or entity can be held liable for your injuries. In California, a driver is liable for an accident when the following four elements are present:  
Duty:

Under the circumstances, the respondent owed a duty of care to the claimant

Breach:

The respondent breached that duty by acting or failing to act in the same manner as a reasonable person in the same or similar circumstances

Causation:

The action or inaction on the part of the respondent was the direct cause of the claimant's injury  

Damages:

The plaintiff sustained damages as a result of their injury 
An experienced California personal injury attorney can effectively prove that these four elements were present, and correctly establish negligence, allowing you to recover full and fair financial compensation.  
The total of the damages owed will vary from case to case and hinge on the nature, degree, and longevity of your injuries. A skilled failure to yield lawyer will be able to correctly calculate your damages following an accident.  
If you or a member of your family was a victim of a failure to yield accident, reach out to a reputable failure to yield collision lawyer at The Mines Law Firm in California by calling (888) 700-0093. With our help, you can secure the compensation you are entitled to for your injuries.
Note: We use outside sources when creating these accident news posts. These sources include but are not limited to local and state police reports, local news reports, social media outlets, and eyewitness accounts about serious accidents that take place in and around Los Angeles County. We have not independently verified all of the facts surrounding this specific accident. If you locate any information that is incorrect, please contact The Mines Law Firm immediately so that we can correct the post right away. The post will be removed on request.
Disclaimer: None of the information provided in this post is intended to be legal advice or medical advice. If you are involved in an accident, seek medical assistance as soon as possible. This news post is not a solicitation for business. The picture in this post is not from this accident scene.