Downey, CA (April 28, 2022) – Three California Highway Patrol policemen were hurt when their patrol car caught on fire after a crash in Downey. The incident was reported early Thursday, April 28. 
Reports indicate the wreck happened on the 105 Freeway near Lakewood Boulevard just before 1:30 a.m. the CHP patrol car was stopped in a freeway lane trying to keep traffic away from a crash scene. They had flares out and all lanes closed out when the driver drove into their car without applying any brakes. 
Shortly after the crash, the patrol car caught fire. One officer who was right outside the car at the time of the crash suffered major but non-life-threatening injuries. Two officers in the vehicle, a woman and a man were moderately injured. 
All three victims were transported to St. Francis Medical Center in Lynwood. Two of the injured officers were taken by ambulance and the third was taken by other police officers before paramedics arrived.
The driver was detained at the scene and arrested for suspicion of intoxicated driving. All eastbound lanes of the 105 were closed at the 710 freeway for several hours. Traffic was backed up for miles, reports said. 
Authorities continue to investigate the details of the incident. 
We hope for the full recovery of the injured victims.
California Car Wrecks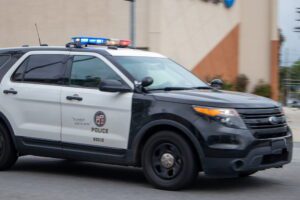 One of the most alarming facts concerning car wrecks in California and throughout the United States is that most of them are preventable. California sees over 400,000 car crashes per year that injure about 150,000 people annually. No one wants to get hurt in a crash, not only because it is painful and scary, but also because it is expensive and disruptive. If you've recently been hurt in a wreck, your life has probably been turned upside down by your injuries. 
Driver inexperience, fatigue, and intoxication are common reasons auto accidents happen. Approximately 30% of all auto collisions in the United States are caused by intoxicated drivers, while speeding was the highest contributor to fatalities in car accidents in Pennsylvania in 2019. These are all dangerous forms of driver negligence, which cause 4 out of 5 auto accidents in the United States. 
If you feel that you or someone you love was hurt in a wreck caused by negligence, read on to learn more about how a California car crash attorney can help you.
Car Accident Attorneys in Downey
Downey car crash attorneys know how to ensure that your legal rights are protected and exercised to get you the maximum compensation available for your injuries and losses. You may be unable to work due to recovering from a serious injury. As a result of the injury, medical bills may be piling up. This can all be very stressful. Allow a lawyer to negotiate with the insurance company for the full and fair settlement that you deserve. 
The personal injury lawyers in Downey at the Mines Law Firm are skilled and experienced in personal injury law. We know the ins and outs of the claims process and will help you understand how to make sure you are treated fairly and not taken advantage of. After you've been hurt by another person's negligence, the insurance companies may attempt to coerce you into accepting a small settlement that will barely cover the costs associated with your wreck. You deserve better. 
Call our law firm at your earliest convenience to discuss your case free of charge. You can reach us online or by phone, at 1-888-700-0093 any time, 24-hours a day, 7 days a week.
Note: We use outside sources when creating these accident news posts. These sources include but are not limited to local and state police reports, local news reports, social media outlets, and eyewitness accounts about serious accidents that take place in and around Los Angeles County. We have not independently verified all of the facts surrounding this specific accident. If you locate any incorrect information, please contact The Mines Law Firm immediately so that we can correct the post right away. The post will be removed on request.
Disclaimer: None of the information provided in this post is intended to be legal advice or medical advice. If you are involved in an accident, seek medical assistance as soon as possible. This news post is not a solicitation for business. The picture in this post is not from this accident scene.