Tujunga, CA (May 27, 2022) – Police identified 57-year-old Miguel Martinez and 56-year-old Jason Curnel as the two men who were killed in a fatal traffic crash with a big rig on Wednesday, May 25. As previously reported, the wreck was reported at around 12:10 a.m. Wednesday. 
Authorities responded to the scene located near La Tuna Canyon Road on the westbound 210 Freeway in Tujunga. Initial reports state that the car was found pinned under the big rig at the scene. 
Both men were pronounced deceased by paramedics on-site. 
Traffic was delayed in the area while responders worked to secure the scene. Few details are currently available concerning the circumstances of the wreck. 
We would like to offer our sincere condolences to the family of the deceased victims. 
Traffic Accidents in Tujunga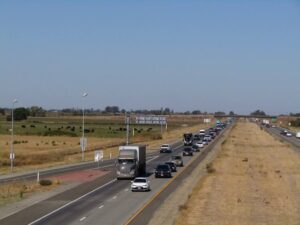 There are more than 40 million residents in California, the largest state in the nation. There are 16,662 miles of state highway in California with 652 out of every 1,000 people registered to drive. With so many drivers in the most populated state, California car wrecks are more common than car wrecks in any other place in the US. Over 150,000 people sustain injuries in more than 450,000 car accidents every year in California. 
More than 4,000 people lose their lives per year due to traffic accidents involving large trucks in the United States. Semi-trucks are much larger than passenger vehicles, making for serious serious injuries or death if the two become involved in a traffic collision. Thousands of people are hurt in truck accidents in California truck wrecks every year. Truckers are often forced to work long, grueling hours that put them at risk for driving while fatigued or even intoxicated. 
When you or someone you love sustains an injury in a traffic accident, you may be wondering where to turn for help. If you're unable to cover all of the expenses related to your wreck, it is vital to figure out what caused the crash to happen. If it was caused by another person, you may be eligible to collect compensation for the damages you face. An attorney can help you figure out who caused your wreck and how to collect compensation. 
Jasmine Mines, a skilled personal injury attorney in Los Angeles from the Mines Law Firm, has been helping crash victims and their family members recover full and fair financial compensation for many years. Compensation can cover most of the costs associated with your accident. Vehicle repairs lost wages, and medical expenses may be covered by compensation awarded to you based on the circumstances of your accident. A Tujunga truck crash attorney can help you learn more about your legal rights. 
If you think someone in your family was killed due to the negligent actions of another motorist, you may be eligible to collect financial compensation that can help cover funeral costs and other expenses related to the death of your family member. Non-economic damages like pain and suffering also may be paid for by way of compensation. 
It is in your best interest to contact a wrongful death lawyer attorney regarding your wrongful death claim as soon as you can. You can call our law office at 1-888-700-0093 24-hours a day, 7 days a week, to discuss legal options. 
Note: We use outside sources when creating these accident news posts. These sources include but are not limited to local and state police reports, local news reports, social media outlets, and eyewitness accounts about serious accidents that take place in and around Los Angeles County. We have not independently verified all of the facts surrounding this specific accident. If you locate any incorrect information, please contact The Mines Law Firm immediately so that we can correct the post right away. The post will be removed on request.